It was a question we asked ourselves when we were 12. Then it became a viral meme in 2019. Two years later, did you really think we would just let this moment go?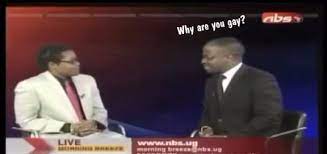 After Ugandan TV personality Simon Kaggwa Njala interviewed LGBT rights activist Pepe Julian Onziema, his first question became the question of the year: "Why are you gay?" This was literally the first thing he asked…well, technically, it was the second thing because he did ask Pepe if he should call him "Mister." But once the interview started, Simon just needed to know why.
What made this interview so memorable is not the interview, but that first encounter. Does anyone else actually remember any of the other questions that Simon asked?
This moment is almost like seeing tabloids in a grocery store…you see the covers, but you don't really read the pages…so in this case, you remember the first moment, but not really the purpose of the interview.
Thankfully, Pepe's answer to the question was with another question: "Who says I'm gay?"
Here are other answers we would've accepted:
"Because I was born on a rainbow hanging over the queen's castle and as I was coming out of the womb, I screamed 'YAS Queen!'"
"Because I have an older sister and I just couldn't help but keep saying 'SIS!' every time I felt excited."
"When I was a baby, I said 'Gaga' all the time…it was meant to be."
"I don't know. Just am."